Friday, March 25, 2005
The awards ceremony at the 2004 Chung Hua Cup.
Cheng Man-Ching 37 form Champion: Precious James Powell
Posted by

Precious James 包吉米
at 10:17 PM
No comments:
Links to this post


Saturday, March 19, 2005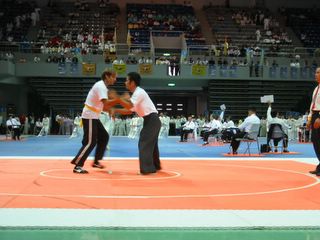 Luis Molera competing in moving step push hands in the 2004 Chung Hwa Bei, Taipei, Taiwan.
Visit Luis' website:
http://www.taichi-luismolera.de/es/index.htm
Luis performing a Fan form.
Posted by

Precious James 包吉米
at 12:30 PM
No comments:
Links to this post